Evangelische und katholische Gottesdienste/ Catholic and Protestant Services
Wir sind ab 8.6. wieder für euch da! We are available at 8.may again!
Wer hätte das noch vor ein paar Monaten gedacht, dass dieses Sommersemester alles anders wird. Die Vorlesungen digital, der Kontakt zu Freunden digital, und eine Menge, was man noch nicht absehen und planen kann …
... auch unsere Veranstaltungen fallen alle aus. Aber wir sind hier!
Sommersemester 2020!
Who would have thought a few month ago that everything would be different this summer semester. The lectures digital, the contact with friends digital, and a lot of things that cannot be foreseen and planned yet ...
.. all our gatherings and meetings are canceled too. But we are here!
2020 summer semester!
Weiterlesen: Wir sind ab 8.6. wieder für euch da! We are available at 8.may again!
Contact
Bei Fragen, Anliegen oder dem Wunsch nach einen Gespräch sind wir gerne für euch da!


Wir wünsche allen eine gute Gesundheit!

Märit Kaasch ab 8. 6.




07720/33345




Diese E-Mail-Adresse ist vor Spambots geschützt! Zur Anzeige muss JavaScript eingeschaltet sein!




Lucia Feuerstein ab 15. 6.


015753324021 (WhatsApp)




Diese E-Mail-Adresse ist vor Spambots geschützt! Zur Anzeige muss JavaScript eingeschaltet sein!
If you need somebody to talk, need support or have questions - please contact us!

And Stay healthy!
Manchmal wächst es unerwartet...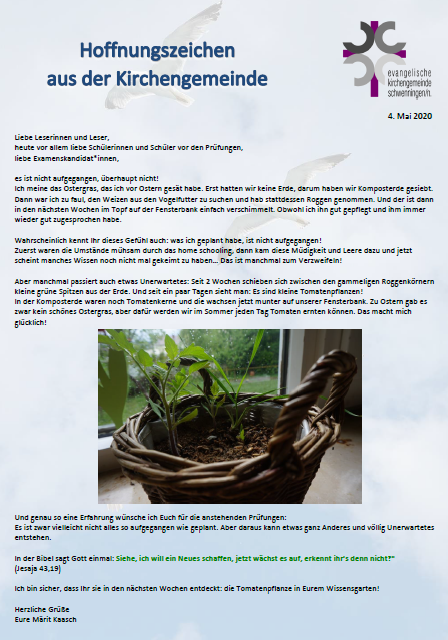 Possibilities of financial support
At the moment things are very different from former times. Some of you may get along well, some of you may cope with difficulites. If you need support in urrgent financial problems or just want to talk you can contact us (the contact you can see above).Then we try to find a solution together. Some information about the support you can find below. From April 20th we will answer your request.